FIRE & ICE: THE BEAUTY OF ICELAND ITINERARY
Day 1 – Departure from home to Keflavik International Airport, July 2, 2021.
Day 2 – Arrival in Iceland
You'll arrive in Iceland and make your way to your hotel in Reykjavík, where you'll be able to rest or explore the city at your own leisure until the evening comes around. At 7pm, you'll meet your photo guide Adam Jones, William Manning and the rest of your group in the lobby of the hotel, before heading to one of Iceland's best restaurants for dinner. Over a delicious meal, you'll get to know your fellow photographers and have a chance to go over the itinerary and logistics for the rest of the week.
Day 3 – South Coast
After breakfast, we will begin our journey towards the stunning south coast of Iceland. Along the way, we'll stop at two of Iceland's most beautiful waterfalls, Seljalandsfoss and Skógafoss, where you'll have a chance to practice your long exposure skills. Both of these waterfalls drop from a height of close to 60 metres, though the former stands out for the unique cavern situated behind it, allowing you to traverse it in 360 degrees for breathtaking photographs.
As the Midnight Sun bathes the landscape in a warm golden glow, we'll head towards the famous Reynisfjara black sand beach, where tumultuous waves from the Atlantic Ocean crash furiously against the Reynisdrangar sea stacks.
We'll then retire for the night to our hotel in the small fishing village of Vík.
Day 4 – South Coast
On your third day, you will return to photograph the black sand beach of Reynisfjara and beautiful sea stacks from an alternative viewpoint and beneath different light. We'll then make our way to Dyrhólaey, a small promontory where you'll have the opportunity to photograph the 120m high natural stone arch that has eroded away from the headland. Depending on the conditions, this area makes for a host of dramatic and moody shots.
Adding to the excitement will be the chance to photograph puffins! These adorable little sea birds nest upon the sweeping cliffs in their thousands and are surprisingly unafraid of people. You'll be able to get unbelievably close to capture their charmingly clumsy characters as they make their way about the cliffs on their everyday business.
As the light softens in the evening, we'll venture around the quiet village of Vík to photograph its sleepy beauty surrounded by nature and endless, divine stretches of purple lupine fields.
We'll then retire for the night to our hotel in Vík.
Day 5 – Vatnajökull National Park
After breakfast, we'll continue on our way towards the Vatnajökull National Park, a vast area that contains some of Iceland's most stunning landscapes for photography. We'll spend several days in this area, capturing it in a variety of different conditions.
Our first stop will be at fascinating Skaftafell Nature Reserve, where we'll spend the day shooting waterfalls, glacier tongues, ice caps and rivers. We'll then make our way to the Jökulsárlón Glacier Lagoon, where you'll have the chance to capture brilliant blue icebergs after they have calved away from Breiðamerkurjökull glacier, while they float around serenely in the tidal lagoon before cruising out to sea. This is also a good place to practice wildlife photography, as you'll more than likely spot a few seals out and about!
Adjacent to the glacier lagoon is the famous Ice Beach, where large chunks of ice from the lagoon that have been reshaped by the sea wash back onto the black sandy shores, resembling diamonds in the sun.
You'll retire for the night to your hotel in the Jökulsárlón area.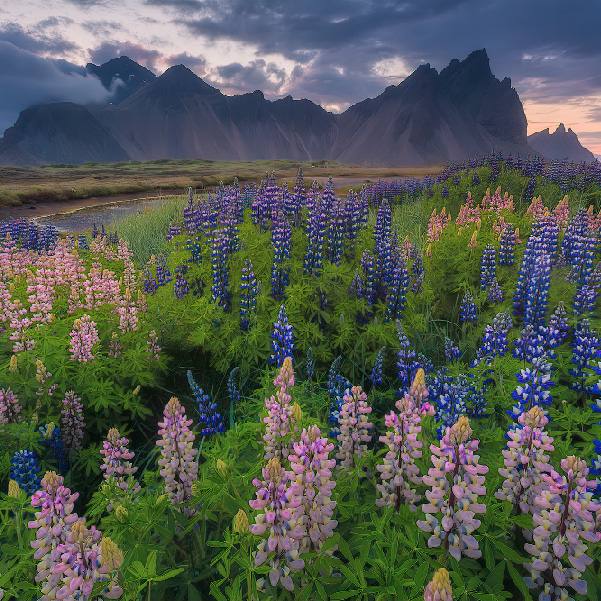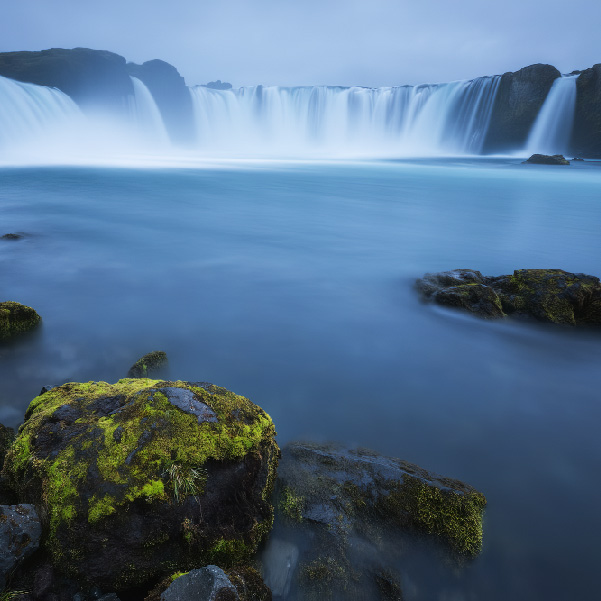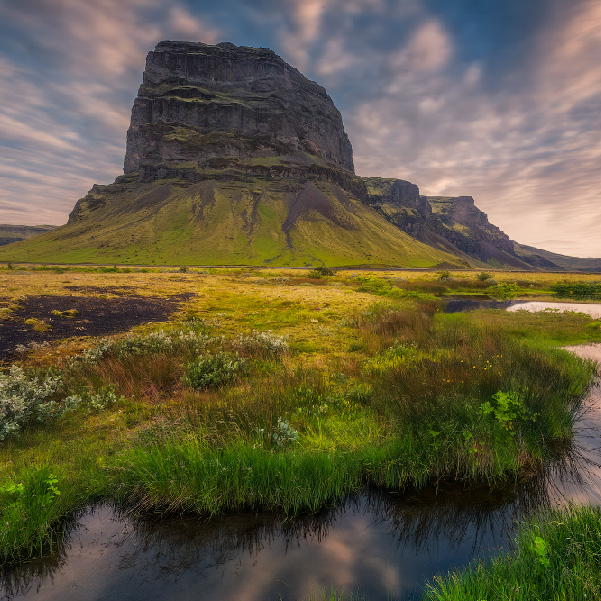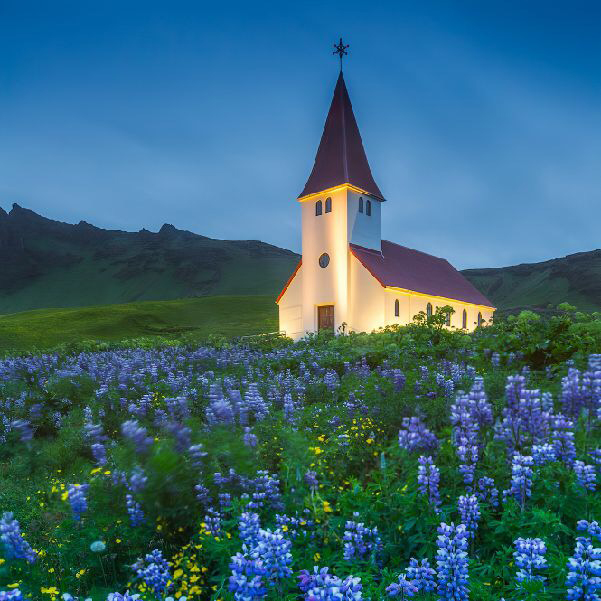 Day 6 – Vatnajökull National Park
On our fifth day, we'll return to the Jökulsárlón glacier lagoon: the charm of it is that this area changes under different lighting conditions, so you'll be able to capture some truly unique images. You will also head back to the Ice Beach to practice your long exposure action skills further and to hone your seascape photography skills.
The focus of this day though will be the jagged peaks of Mount Vestrahorn and its surrounds, beneath the golden light of the Midnight Sun. This easily-recognised and unique mountain is framed by the Atlantic Ocean on one side where waves crash ashore and undulating black sand dunes on the other. You'll spend the day travelling around to photograph this mountain from different angles all along the windswept Stokksnes Peninsula.
Later in the evening, our guides will take you to a couple of hidden gems within the Vatnajökull National Park, before you'll retire to your hotel in the Jökulsárlón area.
Day 7 – Vatnajökull National Park
Day six will be spent returning to any sites that your group wants to photograph beneath different conditions or to improve upon the photos that they have already captured. There is no doubt that some will want to try Jökulsárlón Glacier Lagoon and the Diamond Ice Beach again, as the opportunities in these two places are endless.
In the evening, your photo guides will take you to some lesser-known spots that only they and very few others know about within the Vatnajökull National Park, allowing you to photograph sweeping views of the landscape in all its glory beneath the Midnight Sun.
You'll retire for the night to your hotel in the Jökulsárlón area.
Day 8 – Mývatn
Day seven marks a turning point in our journey, when we will leave the south-east of Iceland and head north. Along the way, you'll travel through the breathtaking Eastfjords, making numerous stops to photograph its stunning coastline, peaceful villages and wildlife – including Arctic foxes and reindeer!
The drive to get to the north will be rather long, though the return will be worth it. The Mývatn area is well-known for its marvellous geothermal and geological sites. You'll have the opportunity to photograph the serenity of Lake Mývatn itself, surrounded by fascinating lava pillars, as well as to practice wildlife photography, with dozens of bird species frequenting the lake in summer.
You'll retire for the night to your hotel in the Mývatn area.
Day 9 – Mývatn
On this day, we'll immerse ourselves further in the exceptional landscape surrounding the Mývatn area. With pseudo-craters, lava fields, geothermal areas and more, you'll find yourself very busy as we make our way through each unique and interesting location!
At Dimmuborgir, tall and impressive structures of lava resemble a dark fortress, rising high towards the sky. It's no wonder that this dramatic site has been used in the HBO series, Game of Thrones. Nearby is the hot-spring cave Grjótagjá, a pool of sparkling blue water that lies hidden beneath the earth, which makes for a very special panorama.
As the Midnight Sun takes hold, we'll make our way towards the steaming area of Námaskarð Pass. The ground comes alive here with bubbling mud pools, seething fumaroles and colourful contrasts. You'll also have the chance to photograph the thundering waterfall of the gods, Goðafoss, and neighbouring Dettifoss, which happens to be the most powerful waterfall in all of Europe.
You'll retire for the night to your hotel in the Mývatn area.
Day 10 – Kerlingarfjöll, Reykjavik
This will be your final full day of shooting. After an early morning shoot at Lake Mývatn, we'll begin making our way towards Reykjavik, though with a special detour through Kerlingarfjöll – an awe-inspiring, vast and dramatic region of the Icelandic Highlands. This is where colourful rhyolite mountain ridges meet clouds of steam as they rise forth from bubbling mud pots, reaching high into the sky. It may seem like you've visited another world, though you'll have your feet firmly planted upon the multi-coloured volcanic rocks upon the ground. The landscape here is dotted with hot rivers and springs, giving you the perfect chance to capture the very essence of Iceland's volcanic nature.
Thereafter, we'll begin making our way slowly back to Reykjavík, where we'll meet for one final dinner as a group at our hotel to go over the events of the week and to bid each other our farewells.
Day 11 – Departure, July 12, 2021
This will be the final day of the tour. After breakfast, you will make your transfer back to Keflavík airport and depart for home or onwards to your next destination.